For individuals who want to explore job opportunities in the most demanding business industries  including oil and gas, mining, infrastructure, construction, and civil engineering.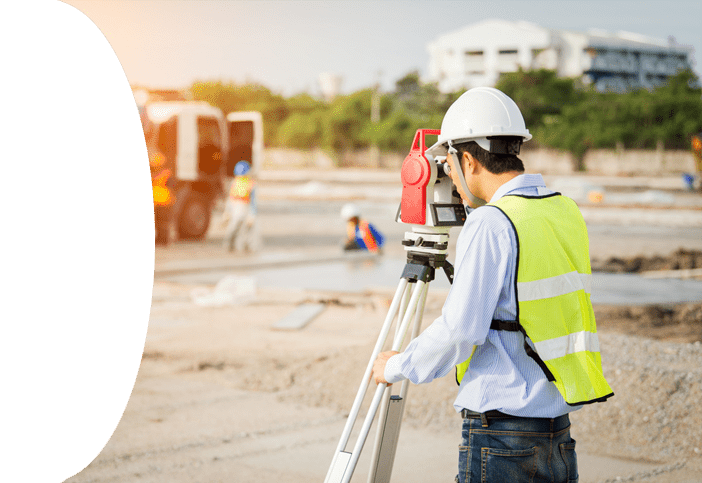 Land surveyors are in high demand across a variety of industries, including oil and gas, mining, infrastructure, construction, and civil engineering. Civil engineering is most commonly connected with land surveyor education.
This course covers a long-standing need for skilled workers in this industry. Land surveyors are also in high demand in other countries. Students from our institution will receive the study materials.
This course requires field training to complete. The institute has all of the required equipment and facilities to provide field training in the surveying sector. Foreign students might also choose to complete this training in their home country.
Survey Define
Types of Survey
Plan Survey
Land Survey
City Survey
Hydrographic survey
Astronomic survey
Define Area
Types & Area of Triangles
Calculate Area in Marla, Kanal, Acre & Hector
conversation
Angle
Line in Angle in AutoCAD
Bearing
Types of bearing
Scale
Define Staining, RD & Chainage
Co-ordinates
Latitude
Longitude (Departure)
Plotting Latitude & Departure in AutoCAD
Northing & Easting
Plotting Northing & Easting in AutoCAD
Latitude & Departure
Coordinate Formulas (Sin & Cos)
Latitude & Dep formula (Rec)
How to Calculate Coordinate in House Drawing
Find House Coordinate in AutoCAD
How to find coordinate in UAE key Plan
Pole Formula
how to calculate Coordinate in Line
Close Traverse
Close Traverse in AutoCAD
Close Traverse Area by Multiply Method
Horizontal Curve
Simple Horizontal Curve
Compound Curve
Reverse Curve
Transition Curve
How to Calculate Horizontal Curve in AutoCAD
Road Profile
Road Layers
Components of Road
How to Read Road Profile Drawings
How to make Road Profile Drawing on Copy
How to make Road Profile Drawing in AutoCAD
How to make Road Profile Drawing in AutoCAD by Lisp Commands
Toe, Points & Catch Points
Contouring
Types of Vertical Curve
Super elevation
Types of Drawing
Biddings Drawings
Addendum Drawings
IFC Drawings
As-Built Drawings
Align & Make Key Plan in AutoCAD Road & Building
Interview preparation
And many more you can't imagine
Project Management
Practical with Digital Level
Parts of Digital Level Machine
Back sight with Level Machine
How to Take Level from NSL
Setout Level on Steel
Types of Dimension
Define BM & RL
How to calculate level between 2 Points
Find NSL & FRL by average Method
How to calculate Level with Percentage %
How to Calculate Level Road X-Section
Practical with Level Machine
Parts of Level Machine
How to Read Staff Reading with MM
How to Read Staff Reading with FT
Difference in Level by Reading Method
Table of Hight of instruments
How to find level on Earth
Difference in Level by BM & RL Method
Setout Level on Still
Setout Level Building Edge
Setout Level Building Edge with Slope
Setout Level in Road Center Line
Setout Level in Road Edge
BM Shifting & Clouse
Adjust Error in BMs
Road As-Built
How to Check Distance with Stadia Method
How to Check Error in Level Machine
Total Statin Practical
Definition of Total Station
Parts of Total Station
How to Set total Station on Center Point
Find (SHV) Distance between 2 Points
MLM
REM
Area Calculation
How to Make Control Point with Bearing
How to Make Control Point with Lati & Depar
Back Sight with Northing & Easting
Control Point Shifting
Back Sight with Northing, Easting & Elevation
Resection
Take Coordinate from Earth
Setout Coordinate on Earth
Setout Coordinate of Building
Setout Coordinate of Road CL
Setout Coordinate of Road Edge
Setout Coordinate of Curve
Setout Coordinate of Road CL
Setout Coordinate of Road Median and Edges
Close Traverse with Coordinate & Elevation
Adjust Error in Coordinate & Elevation
Topo Graphic Survey of Ground
Topo Graphic Survey of Road
Create Job
Export Job in USB/Memory Card
Delete Job
Export Data from Total Station to AutoCAD
How to Check Error In Total Station

This course taught me a lot about the civil surveying and all of its professional details. Now I am confident to apply for job in any company related to the construction and civil engineering.

I have completed 06 months civil surveying course from WIPS. Teachers taught lesson with in full details. I am really thankful to this institute to make me able to be qualified as Civil Surveyor.
When you complete the requirements of the course, and a complete practical project, you'll earn a Certificate you can share with your government agency, professional networks, potential employers.
Certificate that we will issue is fully authenticated and certified which can be verified from the concerned government agencies and embassies for any of your job recruitment process.